Kittawa Lodge is thrilled to have been reviewed by the incredible Ute Junker for Life & Leisure for the Australian Financial Review.
Isolation, immersion, community spirit plus luxury: King Island awaits
Why Kittawa Lodge on this island in Bass Strait is the perfect post-COVID destination.
When Aaron Suine and Nick Stead opened Australia's newest luxury lodge back in October, they were prepared to take things slowly. They had no doubt that Kittawa Lodge – set on 40 hectares of rolling King Island waterfront, with bathtubs perfectly positioned so guests can lie back and soak while watching the sun sink into the ocean – was exactly the sort of break that stressed-out mainlanders needed. But they figured that getting the word out on a lodge tucked on an island off the Tasmanian coast might be a slow process.
They were wrong. "We had far more bookings and inquiries than we expected," says Suine. "We were so busy with our guests that we had no time to start our marketing."
Then came the COVID crash. While it was a huge blow for the fledgling business, Suine can now see an upside: that in a post-COVID world, King Island's mix of isolation, immersion and community spirit may be just what travellers need. The fact that it's less than an hour's flight from Melbourne is an added bonus (or will be, when the latest lockdown is lifted).
Floating in Bass Strait between the mainland and Tasmania, King Island – with a population of just 1500 scattered across 1000 square kilometres – has until now been known mainly for its cheese, beef and crayfish. But the island has plenty to lure visitors, not least its natural beauty.
The ever-changing landscape ranges from lush pastures to melaleuca forests and wetlands where birdwatchers can spot rare species such as the orange-bellied parrot. The rugged coastline, where more than 100 ships have been wrecked, alternates between sheltered white-sand beaches and wave-tossed, boulder-strewn shores.
You can walk for miles without encountering another person, gazing out onto an apparently endless sea. The overarching feeling is a sense of tranquillity – something Suine noticed straight away. "We had a feeling of genuine calm and connection when we first came to King Island [in November 2015]," he recalls. "We fell in love with the island and the people. We bought this property less than a month after we visited."
"We tailor itineraries to each guest's interests. We want to have them walk away reconnected and rejuvenated."

— Aaron Suine
Kittawa Lodge's two villas blend seamlessly into the environment, with charred cypress exteriors, elegant but understated interiors in bush tones, and floor-to-ceiling windows. This may be the only place in Australia where wallabies watch with fascination as you cook breakfast – possibly drawn by the rich aroma of the King Island bacon, smoked by the local butcher, being cooked.
A sense of place is woven through every aspect of the lodge, from the aromatherapy bath products made locally with native botanicals to the striking prints and paintings on the walls. Not only is the art for sale, your hosts can arrange for you to meet the artists. Like every other local I meet on King Island, they are incredibly hospitable."We tailor itineraries to each guest's interests," Suine says. "We want to create an incredible experience for every single guest, to have them walk away reconnected and rejuvenated."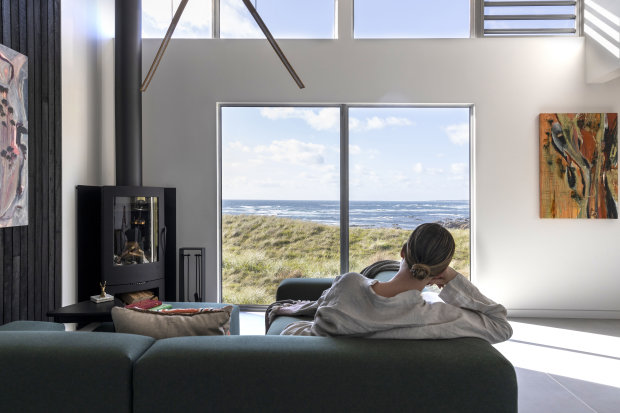 What that involves will vary from guest to guest. "Some people want to play golf, some people want private yoga or guided meditation sessions."
If all you want to do is hide away from the world, Kittawa Lodge is the place to do it, with grassy dunes sealing off each villa from view. "The fact that we can give our guests complete privacy is part of what sold us on this piece of land," Suine says.
If you prefer to spend your days exploring, there is much to discover, from the pheasants and peacocks that roam free – they throng the dirt roads after it's rained, fossicking for insects – to the benches in the township of nearby Currie, which are built in the shape of two turkeys.
Just outside town are the kelp racks, imposing structures where huge strands of kelp are hung to dry by locals who gather it from the beaches where it is washed up. It is a surprisingly lucrative side hustle: kelp is a source of alginates, an essential ingredient for food, shampoo and pharmaceuticals. (It also provides a mineral-rich supplement for the island's cows.)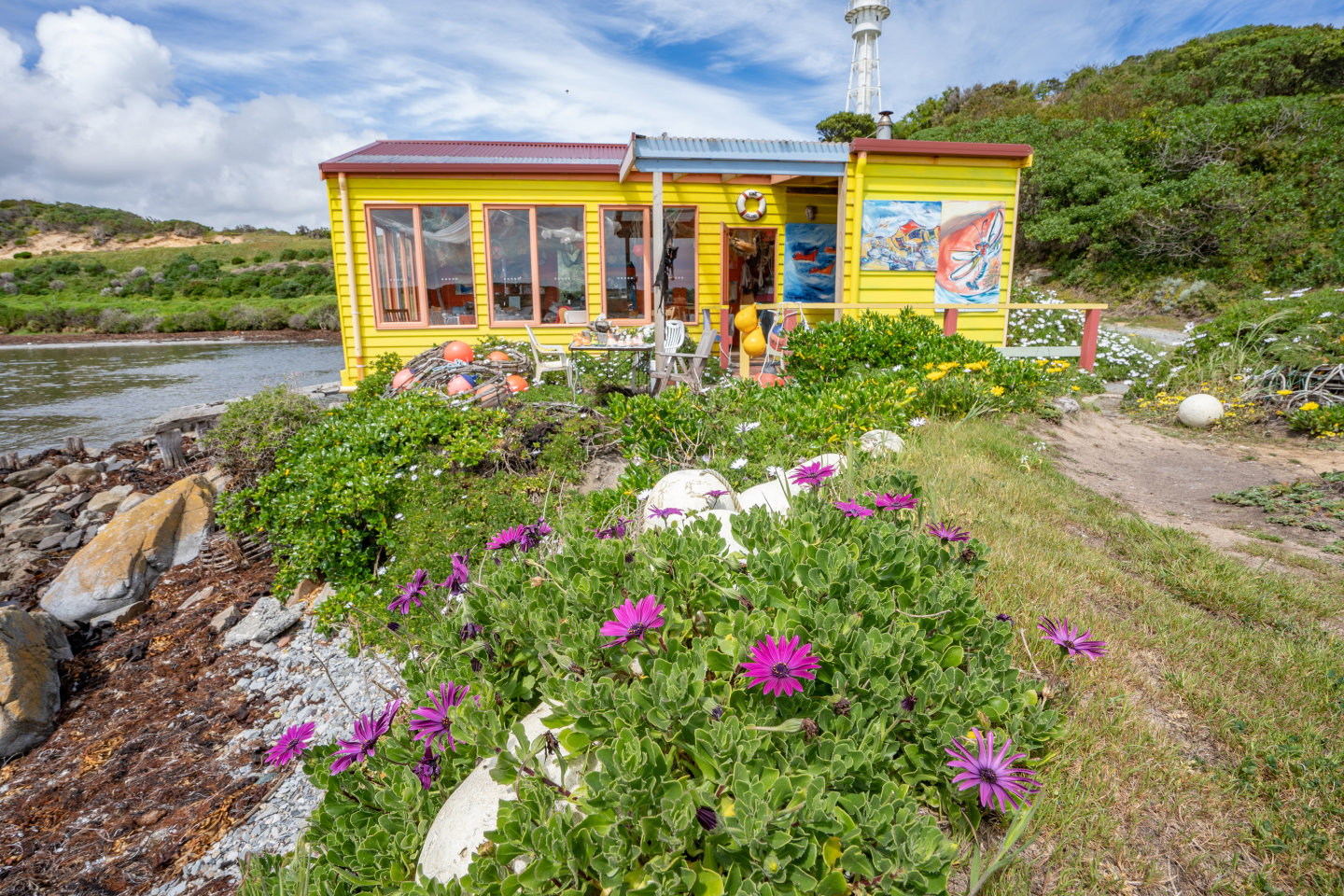 Surprisingly, this small island also has a thriving arts scene. One of my favourite local attractions is the Boat Shed, otherwise known as the Restaurant with No Food, on the waterfront at Currie. Its cheery yellow walls are hard to miss; step inside and it is even more vibrant, a cascade of crayon-bright colours on the walls and floors, the tables and the chairs. The tables are already set, classical music playing. All you have to do is bring the food – an easy task, given the wealth of excellent local produce.
If you prefer something slightly more formal, head to Wild Harvest restaurant in the township of Grassy, on the south-east of the island, a charming restaurant where we dine on ocean-fresh crayfish, abalone and scallops washed down with an outstanding Stefano Lubiana pinot gris. On the way home, we stop at the nearby boat ramp to watch little penguins surface from the waves and make their way to their nests in the nearby dunes.
Alternatively, you could simply stay in. Suine says there is a special magic to King Island during the colder months. "The ever-changing weather fronts provide fantastic theatre," he says. "You can open a bottle of Tasmanian pinot in front of a crackling fire and watch as waves surge across the Southern Ocean and smash into the coast."
Or you can get busy in the kitchen, which is decked out with top-of-the-line equipment. Produce hampers, complete with recipes, can be ordered as part of your package. If you'd rather someone else do the hard work, Suine can whip up a four-course dinner that may include a dry-aged porterhouse carpaccio – from local beef, of course – as well as pillowy gnocchi made of organic island potatoes teamed with local sage and Tasmanian walnuts.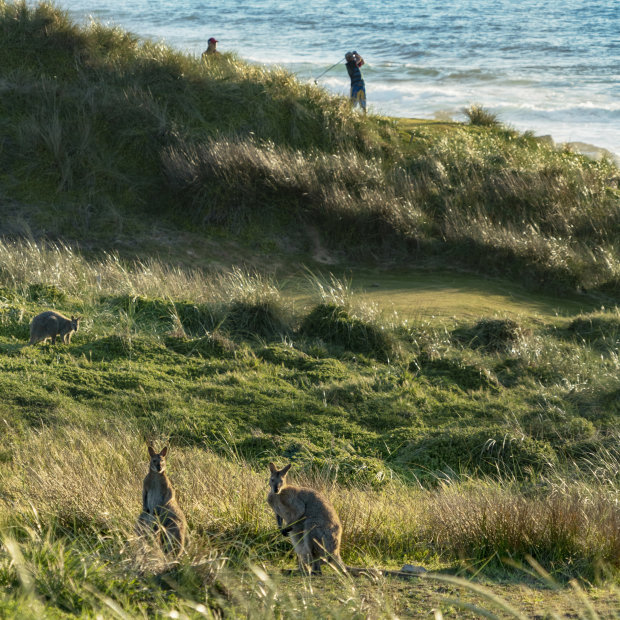 Then, of course, there is the golf. Keen golfers have already discovered the island – on my pre-COVID trip, almost every other person on my flight back to the mainland checks in a set of clubs – but for novices such as myself, the island's gorgeous golf courses are a revelation. At the Cape Wickham Links – which flows up over the headland, around the lighthouse and down to the shore – nature is always part of the experience. The 11th hole is sometimes underwater; the beach at Victoria Cove provides the bunker for the final hole.
"This course was millions of years in the making," course superintendent John Geary tells me. "An intricate landscape like this can't be done by a bulldozer." He gestures at the links that recently scored the second spot on Australian Golf Digest's list of the nation's top courses. "We're in the Roaring Forties here. The trade winds sculpted this course. It's not like one of those highly manicured courses you find elsewhere. Here, you get what you're given."
NEED TO KNOW
Getting there: King Island can only be accessed by air. Rex, Sharp Airlines and King Island Airlines fly from Melbourne, while Sharp Airlines also flies from Launceston.
Staying here: Earlybird packages at the adults-only Kittawa Lodge start from $680 a night, including gourmet breakfast provisions (two-night minimum). Available from August 1, with complimentary rescheduling in the event of travel restrictions. See kittawalodge.com